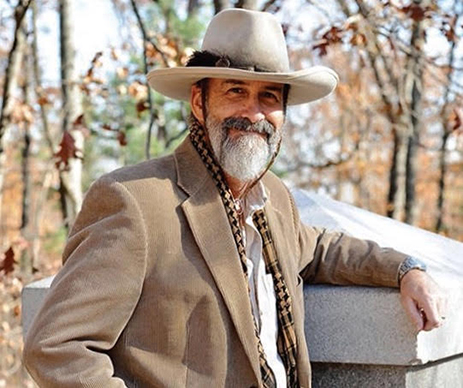 ---
For over 40 years American artist John Paul Strain has been amazing art collectors with his unique talent of capturing moments in time from the early days of the American Frontier, the glory and pageantry of the American Civil War, to contemporary scenic and romantic locations across the world. 
From the early age of 21, Mr. Strain's paintings were represented by Trailside Galleries, America's most prestigious western art gallery.  For 15 years his beautiful landscapes, wild life paintings, and depictions of Indian life were represented by most every major western art gallery and top art auctions in the United States.
In 1991 Mr. Strain broadened his subjects to include historical art of the American Civil War.  During the next 30 years Mr. Strain focused his work on the world of daring horseback raids and epic battles with great armies and leaders, capturing and preserving a unique era in history.  Over a period of years, Mr. Strain became known as America's leading historical artist, with over 80 magazine covers featuring his paintings.  
The National Park Service uses his images in their publications and at battlefield sites.  His paintings are also featured on historical plaque markers located at General Robert E. Lee's home Arlington National Cemetery – Virginia.… Harper's Ferry National Battlefield Park – Jefferson County, West Virginia…. Fort Donelson National Battlefield Park – Stewart County, Tennessee.… Stone's River National Battlefield Park – Murfreesboro, Tennessee…. General J.E.B Stuart's Home Laurel Hill – Patrick County, Virginia.… Patrick Gass Home of the Lewis and Clark Journey of the Corps of Discovery,  Penn State Franklin County Master Gardeners of Chambersburg, PA…. Burke's Station Virginia – Civil War Trails.
Strain's paintings have helped raise funds for many historical restoration projects and battlefield preservation organizations.
A number of historical private institutions and museums have on site displays featuring his work such as Thomas Jefferson's home Monticello, Charlottesville VA…. The University of Alabama, Tuscaloosa….  General Stonewall Jackson's Headquarters Museum, Winchester VA…. Town of Williamsport, Maryland…. Kernstown Battlefield Museum, Kernstown VA.… Belle Boyd's Home and Museum, Front Royal VA.… The Museum of Culpeper History Virginia….  General Jubal Early Homeplace and Archaeological Site, Hardy VA…. Jesse James Birthplace & Museum, Clay County Missouri…. Shenandoah County Courthouse, Woodstock VA…. Williamsport Town Hall, Maryland…. Museum of Fredericksburg, VA.… The Texas Civil War Museum, Fort Worth TX.… Lincoln County Historical Museum, North Platte NE…. Buffalo Bill Ranch State Historical Park, North Platte NE…. Washington-Wilkes Historical Museum, Georgia…. Normandy American Cemetery and Memorial visitor center, Colleville- sir-Mer, France.
Mr Strain's work is featured in books, movies, and film including the television shows of C-Span's Washington Journal, The History Channel, The Discovery Channel, ABC's TV Show Rock The Park, and ABC's Extreme Makeover Home Edition.  His work was also featured in the 2017 movie "The Dinner".   Strain's work was recently featured in the Traveltalks film "Cradle of a Nation" on Turner Classic Movies.
Throughout his long career he has won many awards for his art.  Reproductions of his work have won numerous 1st place awards and "Best of Show" honors, such as the PICA Awards, The Printing Industry of the Carolinas, and at the PIAG Awards in Georgia.  The city of Fredericksburg, Virginia awarded Mr. Strain a "Proclamation Award"for his artistic contribution in the preservation and historical endeavors of the Central Virginia Battlefields Trust and the Fredericksburg Area Museum and Cultural Center for the year of 2000.  In 2010 Mr. Strain won the Henry Timrod Southern Culture Award presented by the Military Order of the Stars and Bars – Descendants of Officers of the Confederacy.  Mr. Strain was awarded the "Certificate of Recognition" from the Department of North Carolina Sons of Union Veterans of the Civil War in December 2015.  In 2017 Mr. Strain was unanimously chosen by the Board of Directors of the General N.B. Forrest Historical Society for the "Forrest Distinguished Artist of the Year Award".   
Strain is also a featured artist for internationally known collector art companies the Bradford Exchange and the Franklin Mint for which he has created a Civil War Chess Set, several limited edition plate series, sculptures, and many other collectable items featuring his paintings.  Strain's paintings also accent labels of the prestigious Winery at Kindred Pointe, Virginia. 
Mr. Strain has also completed a number of commissioned works for the United States Army, which are on permanent display at Fort Leavenworth, Kansas, Fort McNair, Washington D.C., and the battlefield visitor's center at Normandy, France.  Notably his work has been collected by many US Senators, US Congressmen, State Governors, Country Musicians and Film Industry celebrities.  His work can be found at the United States Pentagon, and assorted United States Navy Military War Ships currently in service.
In September 2021 Lt. General Nathan Bedford Forrest and his wife Mary Ann were reinterred in Columbia Tennessee after being removed from their resting place in Memphis.  Mr. Strain was honored to have a plaque featuring his painting "Mary Ann" permanently attached on Mrs. Forrest's burial vault containing her coffin, which was buried with her.
There have been three books that have been published of Mr Strains paintings.  The company Scholastic, purchased 3500 books, and Mr. Strain's books can be found in school libraries across the nation, including libraries in the UK.
A Witness to the Civil War – Running Press Publishers
The Historical Art of John Paul Strain
The Historical Art of John Paul Strain – Second Edition
John Paul Strain Historical Art has sold over 90,000 pieces of limited edition art and original paintings, and we would like to thank our many friends and collectors.
---
Lt. General N.B. Forrest and Mrs. Mary Ann Montgomery Forrest Reinterment
September 18, 2021
Click here to view photographs
---
Extreme Makeover Home Edition
John Paul Strain was asked to participate in the popular television show Extreme Makeover Home Edition. Click here to learn more about this experience.